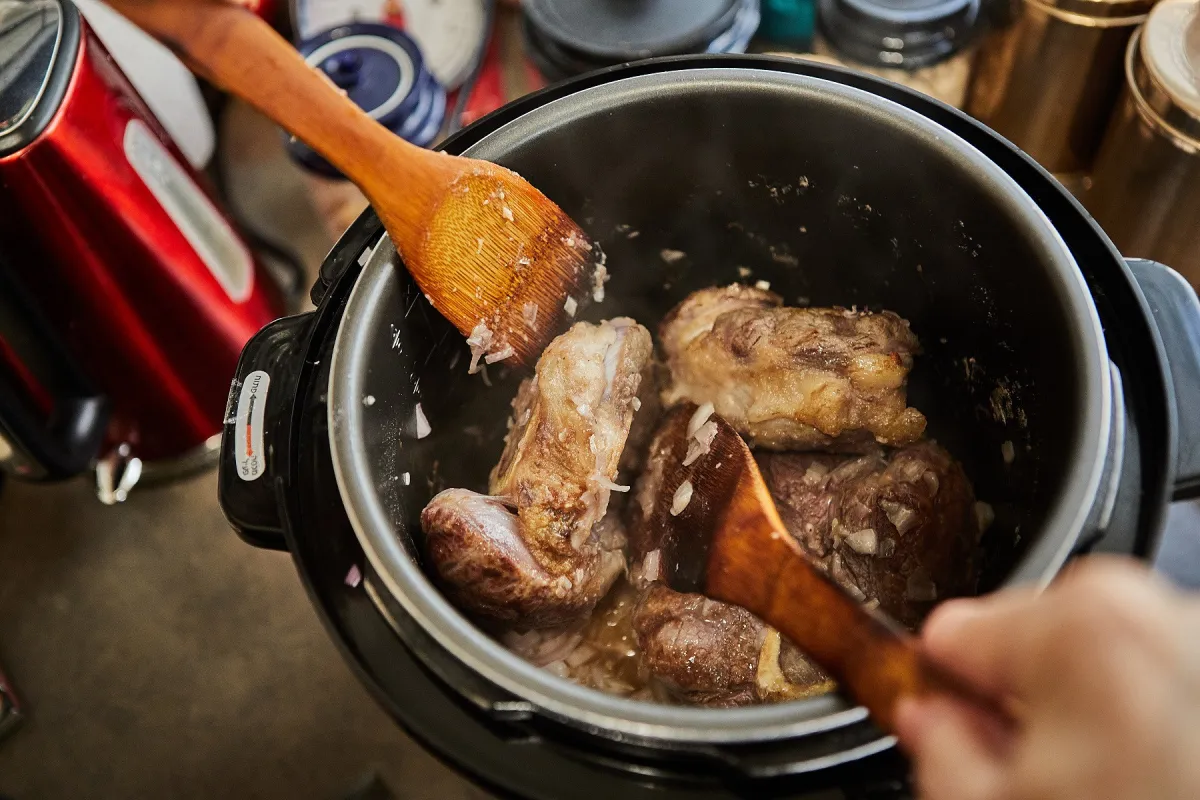 04.12.2022 | Editorial office
Pressure cookers for healthy meals, saving energy and time
Master the preparation of your favorite dishes in a fraction of the time. Healthy steam cooking under higher pressure significantly shortens the preparation time and thus saves energy. Increased pressure in the pot means a higher boiling point. Water boils at a temperature of 120 to 125 °C. A closed container retains up to 80% of vitamins and nutrients in the food, as well as a distinct taste and aroma. Prepare delicious vegetable dishes for your friends, or a perfect venison and beef stew. And that's up to twice as fast compared to preparation in classic pots.
Cook safely with a fully sealed locking lid. The basis of safety is the fuse against opening the pressurized container and the safety drain valve. Overpressure valves to reduce pressure also protect the operator.
Put the lid on and seal it with one of three closing methods:
lever lock with side handle
bayonet cap with side handle
snap closure with folding handle for easier storage
Any method of closure is safe. Do not forget to regularly check the cleanliness of the pressure valves. Reduce heat if steam escapes. The hob will always remain clean.
The size of pot suitable for your household depends on the number of members. With the recommended filling up to 2/3 of the volume, a 5-10 liter pot is enough for a household of four.
Larger dimensions and side handles require more storage space. Small and large container sets with one lid in the set are also practical and economical.
---
---
Classic pressure cookers for heating on the hob Pressure cookers for heating on the hob are usually made of high-quality stainless steel with a sandwich akuthermic bottom. Modern containers with an internal titanium surface can also be used for roasting and frying.
Are you going to get an induction cooktop? Choose pressure cookers that support induction. Quality products have a ferromagnetic bottom that can be used on any hob and can be washed in dishwashers.
For gas burners, consider a combination with plastics to prevent them from being damaged by an open flame.
Don't forget to use smart accessories. Steam baskets and extensions for separating the pot space enable the simultaneous cooking of different dishes in one vessel.
Always follow the operating instructions and use proven recipes. But nothing prevents you from experimenting with your own flavors and aromas.
healthy steam cooking preservation of nutrients, minerals and vitamins natural taste and saturated aroma faster cooking temperature sensor with timer for easier food preparation energy saving lower purchase price
increased caution during cooking is recommended continuous control and adjustment of heating manual shutdown after a specified time unsupervised cooking in the presence of children is not recommended
Electric multifunctional pressure cookers Multifunctional electric pressure cookers can prepare rice, oatmeal, baby food.
They guarantee economical cooking. Varia under high, medium or low pressure. They roast, bake, cook soups and stews. They allow heating and cooking in a steam basket, roasting until brown, or stewing. Every gourmet will be pleased with the option of sous-vide slow cooking and other options.
Use the integrated timer for sound signaling of the end of cooking and automatic shutdown.
The display informs you about the cooking time, temperature and pressure. For cooking soups, pulses, vegetables and fish, choose a lower intensity of pressure and temperature. Higher pressure and temperature are more suitable for meat preparation.
And something else. For lovers of dairy products, it is possible to prepare homemade yogurt.
preset programs for automatic food preparation easy washing in the dishwasher plenty of recipes and instructions for healthy eating timer with automatic heating function and switch off delayed start function Keep Warm function to keep food warm possibility of manual control of temperature, pressure and cooking time possibility of slow sous-vide cooking at a lower temperature, the possibility of canning, the possibility of preparing yogurts
larger dimensions require sufficient storage space and a higher purchase price