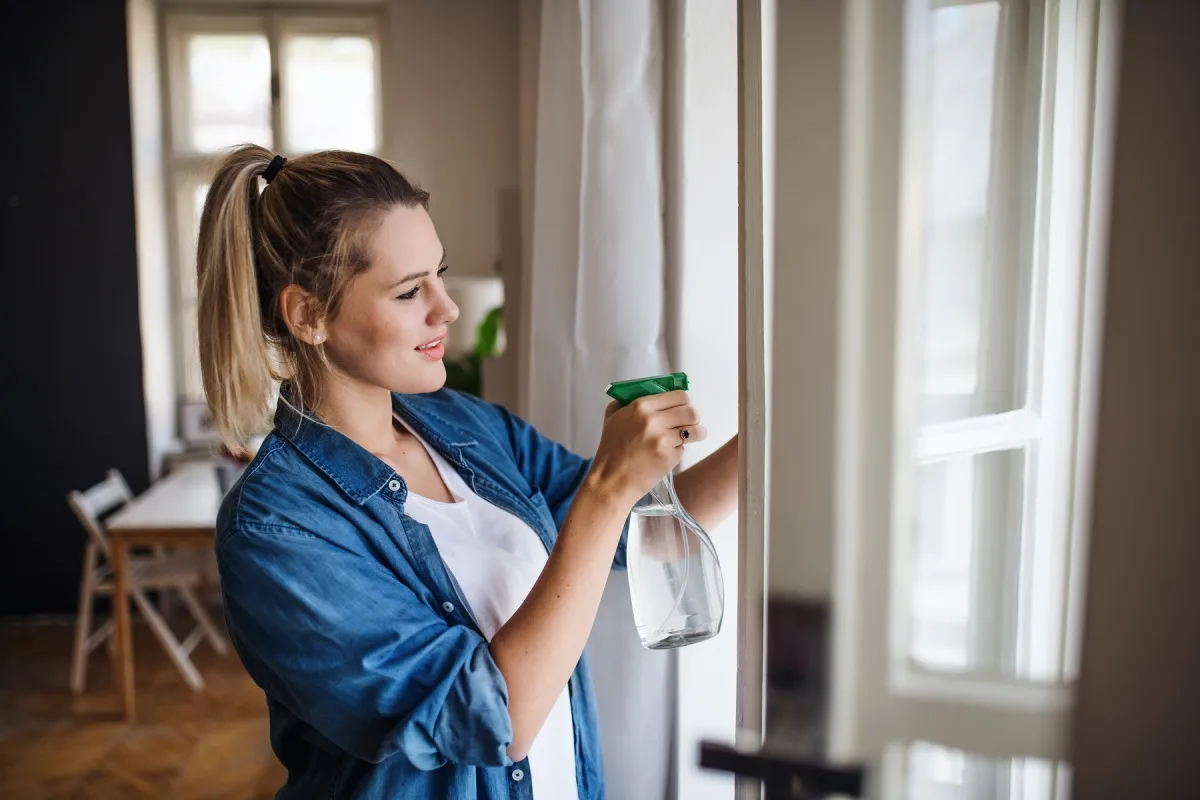 28.11.2022 | Editorial office
Window cleaning - efficient and modern
Cleaning windows, mirrors, shower stalls, or various smooth shiny surfaces in the home is often a nightmare. Are you also solving a traditional question before the coming holidays? Do we have to clean the windows? Certainly yes. But do it efficiently and modernly. Turn a dull duty into a joint family game. Involve all household members in the activity. But above all, get in a positive mood and prepare beforehand.
---
---
Manual cleaning The best time to clean windows is in spring or autumn. Take advantage of the stable weather without heat or wind. Make a plan. Get all the necessary tools and cleaners in advance. Divide the tasks. The basis is safe access to windows and window sills with a ladder or steps. Free up space, take down blinds and insect nets. Use a vacuum cleaner to remove coarse dirt from frame gaps, nets, and blinds.
Roughly wash the outside and inside of the windows. First the frames and then the glasses. Use water with vinegar or another suitable cleaning agent. Do you have wooden, plastic or aluminum windows? Avoid scratching or damaging their surface. Remove the old stubborn dirt. Your steam window cleaner easily overcomes any dirt. Use soft sponges, rags, or microfiber cloths for wiping. Some cleaners can leave traces on the glass surface in the form of streaks. It is the result of quickly dried calcium residues from water and from various additives in detergents. If possible, use distilled water. It does not contain any minerals or dissolved calcium.
Finally, wash the windows clean with the addition of a polishing agent. Wipe off the remaining water with a window squeegee. Ideally with a side stroke and gradually from top to bottom. Wipe the squeegee with a cloth after each stroke. High-quality silicone squeegees and sufficient pressure are a guarantee of a perfect result. Polish any imperfections with a dry cloth or chamois.
perfect treatment of the entire window
time-consuming work unpopular household activity
How to choose a vacuum cleaner?
Cleaning cloths
Paper towels
Stairs
Window cleaners
Steam cleaners
Robotic window cleaners Do you have large glass walls, terraces or glazed balconies in your home? Do you feel insecure about working at height? Use the innovative technology of intelligent robotic cleaners. Even frameless glass surfaces are not an obstacle. Smart robotic cleaners can handle this easily. The integrated backup battery protects the device from falling. Control your robotic cleaner with a remote control or via a mobile application. In case of heavy contamination, wash the glass roughly by hand. Fill the robot tank with cleaning agent. The ultrasonic nebulizer creates a perfect mist for more effective cleaning. In the case of devices without a reservoir, spray the cleaning agent directly on the glass or on the cleaning cloth of the robot. Select the type of movement and start cleaning. Vibrating pad with cloth cleans and polishes the glass perfectly by gently vibrating or circling. Keep microfiber cloths clean. Wash them without fabric softener.
Secure the device with a safety cable against falling and pursue your hobbies.
they facilitate effortless cleaning and polishing of windows, mirrors, or shower enclosures they are suitable for larger windows, glass, or other smooth surfaces they allow vertical and horizontal cleaning they contain a gyro and a vacuum sensor for safe work the navigation laser system enables perfect cleaning even after interruption of work in the event of a power failure
Windows cleaning