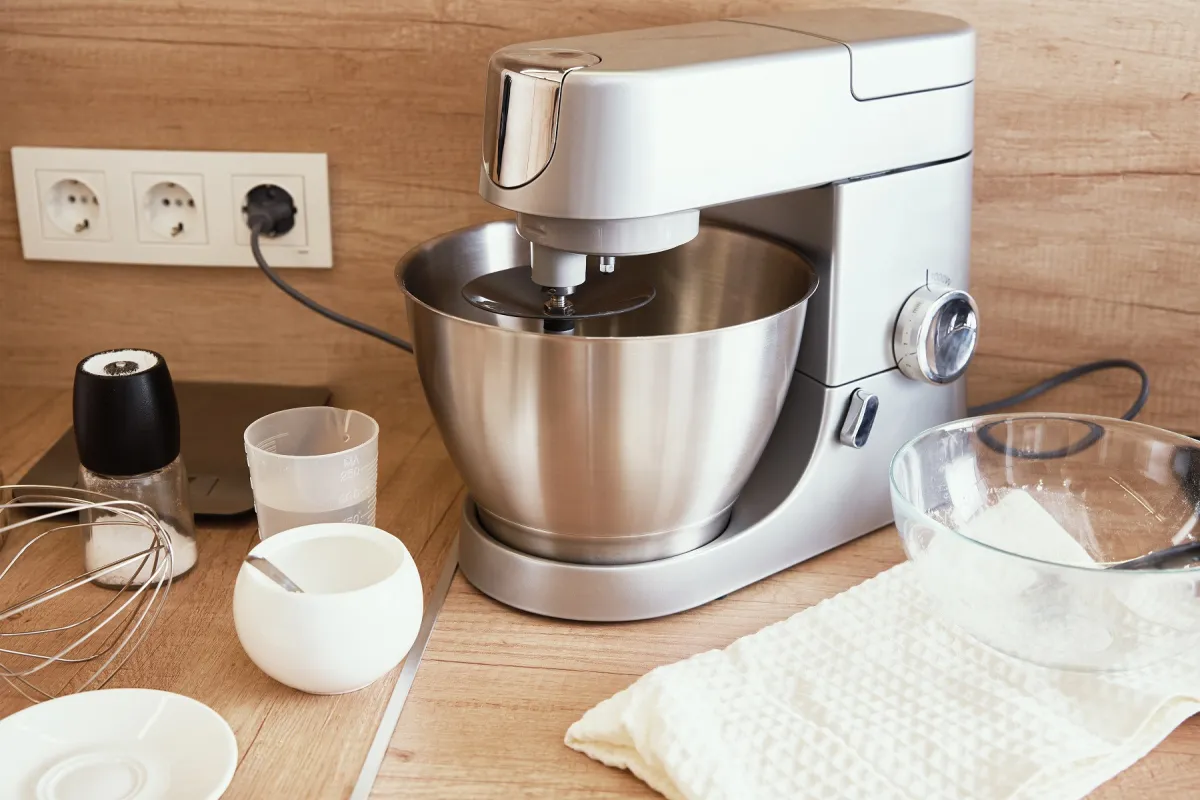 05.12.2022 | Editorial office
Kitchen robots - reliable companions for cooking and baking
Discover a reliable companion for your daily or occasional cooking and baking.
Mix, beat, use gentle kneading. Slice, chop, grate. Become a creative chef. Prepare dishes from around the world. Get inspired by the available recipes.
The most modern kitchen robots weigh, heat or induction cook food. It is up to you whether you use steam or slow cooking at a lower temperature.
The bonus of high-quality devices is sufficient performance, stainless steel construction and plenty of powerful accessories.
With its stylish design, colorful combination of beauty and performance, the food processor will become a decoration of your kitchen.
---
---
Food processors - compact food processors Smaller, compact food processors handle basic tasks. They are mainly intended for whipping, mixing, chopping nuts, slicing or grating fruits and vegetables. They are easy to transport and save space on the work line.
Typical for food processors is the motor located at the bottom of the device and exchangeable containers with accessories, for example for weighing, for slicing cheese, for cutting vegetables and French fries, or for chopping ice. They are suitable for preparing vegetable dishes, pressing and juicing citrus fruits, making marinades and salad dressings.
With a power of around 800 W, they can easily blend vegetables and fruits. The small dimensions of the containers are convenient for processing a small amount of raw materials for smothy for one to two people. Food processors with a power of over 1000W can also handle dough kneading.
lower purchase price basic food processing operations advantageous smaller compact dimensions lower weight easy handling speed regulation pulse mode for immediate maximum speed safety fuse thermal fuse robot suitable for occasional cooking and baking
some features of multifunctional food processors are missing, suitable for preparing food cooled to room temperature, smaller container volume, lower motor power, more difficult to clean, the shaft with the tool is in the way
Kitchen Tools
Multifunctional kitchen machines Discover the versatile multifunctional potential of a food processor. Choose an attachment, lower your arm and get to work.
No recipe will surprise you with a requirement for kneading, grinding, whipping, or chopping. The planetary mixing system always mixes the ingredients perfectly, even at the walls of the container. It also kneads heavy leavened dough for bread and noodles. It processes frozen fruit and hot soups.
You can grind nuts, spices, herbs, cereals, poppy seeds and coffee with a versatile grinder.
Be inspired by the possibility of grinding meat and processing it into meat products and homemade sausages.
You can melt chocolate or cook soup with the induction heating function. You will see the set parameters and the preparation process on the display. Create perfect meals.
If you have a kitchen connected to the living room, also check the noise level of the robot. Don't be surprised by the weight.
High-quality, powerful all-metal multifunctional robots with accessories can weigh up to 20 kg.
easy operation and cleaning large container, also suitable for further processing of raw materials and for cooking greater engine power various attachments for vegetables and meat possibility of grinding and processing meat
they take up more space, higher weight, higher purchase price
Stoves and ovens for baking for the perfect culinary experience
Accessories for robots